A HISTORY OF THE SEA OF LOVE ... AND BOATS
Gian Luigi (Gigi) Corsoni began his activity in the marine industry in 1967. Together with Filippo Theodoli he founded the "Captain Cook", a company specialized in the import of American vessels like Magnum Marine, Cobalt and Donzi. It was the beginning of the prosperous Italian economic season and the Argentario enjoyed a large inflows of assets and VIPs that quickly improved its image worldwide. The golden age of marine industry was at the beginning. Theodoli moved then to the U.S. where he bought out the already celebrated Magnum Marine shipyard and continued to keep in touch with Gigi Corsoni.

In 1972/73 is born the Corsoni Yacht Broker, with the inscription of Gigi Corsoni to the n°4 of the Role of Maritime Brokers of Livorno C/C, where he is still currently registered. In 1980 Paolo Lorenzini, a specialist of the medium length motor and sailing boats market, joined the company.
In 1984 Marcello Corsoni began to work with his father and chose to specialize in the large motor boats market while keeping continuous contacts with foreign countries (America, Greece and France).
In 1998 Marcello Corsoni participates to the last edition of the legendary offshore endurance race "Venice - Montecarlo" as a driver with a Cigarette Bullet 31. He finished second of its category, after a back-breaking race.
In 2000 and 2001 he won the Italian-European and the World Championships of offshore endurance together with his friend Vincenzo Tota, already winner of a Camel Trophy in Madagascar, respectively driving a Tornado 30 and Superclassic 40 equipped with Yanmar and ZF Cabio engines. In 2001 he settled the world speed record for tourist boats in Lefkas (Greece), always with the Superclassic 40. A still unsurpassed record nowadays.From 2008 to 2011 Marcello Corsoni has managed the Argentario headoffice of Canados International, selling new and second hand boats of the shipyard.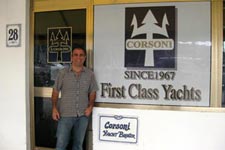 Today Corsoni Yacht Broker offers, in addition to the availability of about 200 selected boats for sale, the consulting of registered marine brokers and the assistance for any kind of request only using the best professionals in the Argentario area and throughout Italy. The deep market knowledge, the uprightness, the proficiency and the friendliness proved over many years of activity guarantees and preserves each customer who joins our "Club" from the danger of "sailing in dangerous waters". In 2011 Alessandro Roncolini, n°100 maritime broker, joins the company.